LED Video Walls in Las Vegas
Out of all the Las Vegas AV equipment rental options out there, one stands out the most – LED video wall. Modular LED Tiles are connected to build a wall that can be utilized for all kinds of purposes. Some examples are:
to build small or large screens at a trade show
stage backgrounds for conferences/galas
advertising & marketing activations
informational signage
special FX/graphics for immersive experiences
Below are some reasons why LED tiles are usually an event planner's favorite option.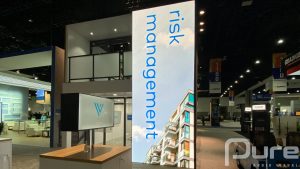 CUSTOM SIZES AND DIMENSIONS
When it comes to sizes and dimensions, TVs and projectors have their limits. LED tiles are usually 20"x20" panels that can be connected to build an LED Video wall of any size. Ground stacked or flown. You can build them as wide or as tall as your heart desires and we even carry flexible LED tiles!
BRIGHTNESS
Nothing can compare to the brightness of an LED Video Wall. You will win people's attention and they will gravitate to your trade show booth. The content will also be vivid in bright convention centers unlike projection. You cannot do a presentation or panel discussion with projection in the back at a conference. But with LED you can.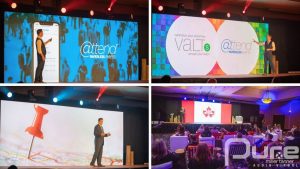 MULTIPLE PRICE POINTS
You can customize the video wall size to be in line with your budget by building the height and width priced per tile. Therefore, you can potentially receive better pricing for a higher volume of LED tiles. Above all, don't forget pixel pitches – there are budget friendly options for further viewing distances as well. An example would be a large hanging LED wall could costs less than you'd expect.
LAS VEGAS LED VIDEO WALL RENTALS
We take pride in offering the latest and best LED Walls in Las Vegas. From consulting you in the early stages, preparing renderings, custom content, delivery, set up, and operate – Pure AV is a one stop shop for all your AV needs in Las Vegas.  Our team of experts is present on the day of your corporate event to help you with any problems that may arise, we look forward to earning your business!
CONTACT PURE AV FOR YOUR LAS VEGAS AV RENTALS
Pure AV is known for building some of the most extraordinary exhibits in Las Vegas at major shows that take place in Mandalay Bay Convention Center and Las Vegas Convention Center – LVCC.
Pure AV can provide any audio visual equipment for your event in Las Vegas. Get in touch with our sales staff by emailing [email protected] or calling 1-800-929-7089.
If you want to learn more Pure AV socials are your best source for past projects and gear rental options – Facebook, Instagram, LinkedIn and YouTube.