AV Equipment for Immersive Experiences
Whether you work in the event industry or you're someone who likes to enjoy cool activations that a city has to offer, you're probably hearing the buzzwords AV Equipment for Immersive Experiences lately. Corporations, marketing agencies, and event planners are using these new event concepts to create engaging activations for their audiences and social media is being flooded with content from these occasions. Are you wondering what is an immersive experience? It's an engaging/interactive environment that integrates different types of technologies to create a multisensory experience. Whether it's to generate PR/buzz for a certain product or to create a memorable occasion for an audience – it's no surprise that this is becoming such a popular and exciting trend.
HOW TO CREATE AN IMMERSIVE EXPERIENCE
To create an immersive experience you will need to design an environment that completely surrounds you and makes you feel like your inside and part of it. Below are some important factors to keep in mind when trying to create an immersive experience:
Selecting the right venue
One of the first things you need to consider when choosing the right venue is whether your production will be ground stacked or flown. If any rigging will be required, a venue will require enough rigging points that can handle the amount of weight that is necessary. Typically, immersive experiences will need to be in a controlled lighting environment making windows an unnecessary option.
Plan lighting requirements accordingly
Is lighting going to be complimentary or the center piece in your activation? Do you envision wash lights remaining one color, multiple colors, or constantly changing? Will you need any moving heads? Any objects that need to be lit up with Lekos? Put some thought into these questions and come up with a lighting plan early on.
Incorporate custom structures
These structures could decide the layout of the entire event and can be used to create the right environment. Some examples are LED tunnels, Or immersive cubes that people can walk in to. You can also create custom 3D objects that can be projected onto if you go the projection mapping route.
Decide on Projection or LED?
The two options to decide upon are Projection Mapping and LED Video Walls. Each one has it's own benefits and advantages. Click each one to learn more.
Consider how much audio you will need
Decide on what role audio is going to play in your activation as early as possible. If you do not want speakers to block any elements then rigging may be necessary which brings us back to our first point – selecting the right venue. Make sure it can handle enough weight and the rigging points are in the right areas.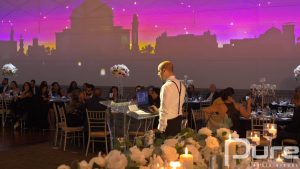 AV EQUIPMENT FOR IMMERSIVE EXPERIENCES IN LAS VEGAS
We take pride in offering the latest and best immersive event AV equipment in Las Vegas. We will consult you in the early stages, prepare renderings, custom content, delivery, set up, and operate. Pure AV is a one stop shop for all your immersive experience AV needs.  Our team of experts is is ready to help you in all necessary areas and will be present on the day of your marketing activation. Pure AV carries all of the latest high-quality audio visual equipment for immersive experiences –  including high lumen Laser Projectors, Curvable LED Walls, Touch Screens, Sensors, LED Lighting, Speakers, Mixers, and Media Servers. We look forward to creating an unforgettable event that will get people talking and sharing videos/pictures on social media!
CONTACT PURE AV FOR YOUR CORPORATE EVENT 'S AV NEEDS
Pure AV offers custom tailored services for immersive activations. We will combine our experience with your approach and create an event that the attendees will always remember.
Basically, If you put your faith in Pure AV we promise to never let you down. Get in touch with our sales staff by emailing [email protected] or calling 1-800-929-7089.
If you want to learn more Pure AV socials are your best source for past projects and gear rental options – Facebook, Instagram, LinkedIn and YouTube.