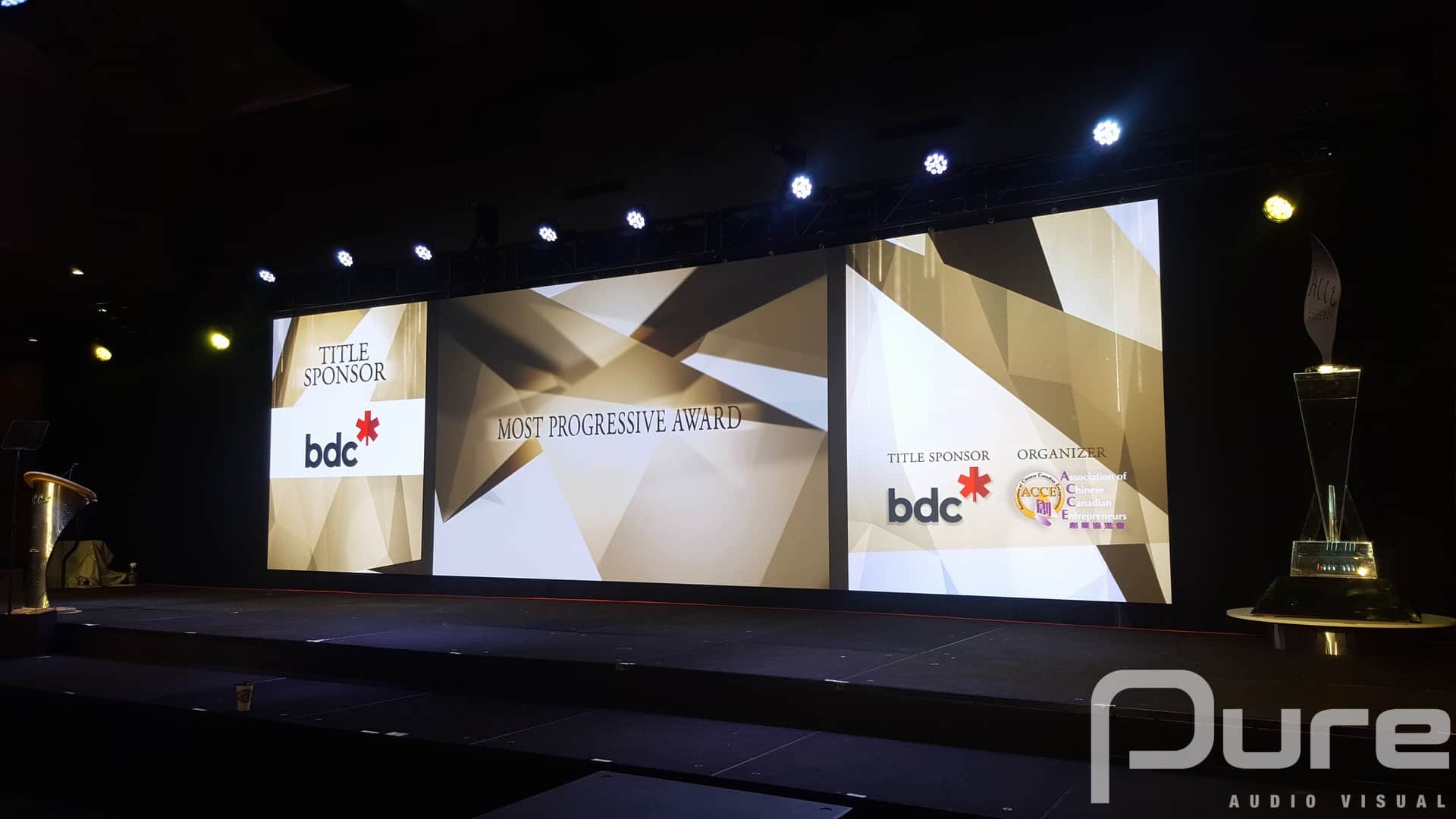 Choosing AV Equipment For A Corporate Event
Whenever a company grows to a certain size, there becomes a need for the company to host
different types of corporate events. Whether it be a conference, annual general meeting,
holiday gala, or exhibiting at a trade show – It would be wise for that company to become
familiar with the basics of audio visual equipment. As much as any other element of your gathering, choosing the right AV equipment for a corporate event and provider is necessary for a successful outcome of any event. Read on to find out why.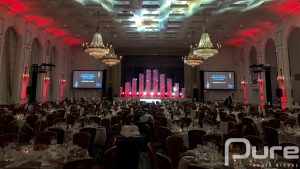 Selecting the Right AV Equipment
Undeniably, selecting the right AV gear for any event requires more than basic knowledge. Below are
some key points to consider when choosing your AV setup.
Brightness
Firstly, is your event in a hotel ball room or a unique warehouse event space? Just
this factor alone can determine 2 completely different av setups required. Why? Ambient lighting. Since most hotel ballrooms are windowless, lighting in this
environment can be controlled and projectors become a viable option. In venues with
ambient lighting especially on a sunny day, light interference can make the projected
images soft and dull making projection a bad option. In this case, an LED video wall is
the way to go. Since LED walls are made of modular tiles that have LED Pixels, they are
typically much brighter and they are the source of light rather than projection having to
travel through light to hit the screen.
Audience Size
AV equipment needs to be customized based on the head count. More
people will require more speakers, larger screens, more powerful laser projectors. Are
you going to have 1 presenter at a time or panel discussions? Will there be Q&A with the
audience? Will some viewers be tuning into the hybrid event from online? Be sure to
discuss all of these details so you don't get over quoted on too much equipment or end
up with not enough equipment for a larger event.
Room Layout
Head count is the first part of the equation. How those people are seated
is the second part. Are people going to be in theater style, half rounds, classroom or full
rounds with Imag around the room? Is there going to be some kind of run way or scenic
elements? Keep these factors in mind as theater seating requires less space and can fit
more people where as half rounds can require more AV equipment for the same
audience count. Hopefully your room is pillarless otherwise sight lines will also become
a deciding factor in room lay out.
Budget
Of course budget is an important deciding factor. You may envision your event
with all kinds of grand top of the line equipment but the reality is that more complex
and stronger equipment costs more. Here a few points to keep in mind when trying to
maximize your budget. Avoid rigging when possible, avoid overtime for labor, discuss a
multi year contract to receive a potential discount.
Selecting the Right Vendor
So you booked the latest and greatest top of the line equipment. But who's going to operate it?
Go through these steps to weed out the good from the bad:
Portfolio
This should easily be available on the company's website or social media
channels. If not, then that should get you questioning as to why. Furthermore, pictures of previous AV
set ups will give you a good idea of the company's capabilities.
Client List
Who has this company done events for? If you see a large number of
corporate/F500 clients, chances are customers are typically satisfied with the product.
Reviews
Surely, doing a simple google search can unveil what people think of the company.
Certifications
More complex events require more complex software, media servers,
mixers, processors, and other equipment. Nevertheless, rigging and electrical also adds to the
complexity so it would be wise to make sure the AV vendor can handle the task.
Experience
How many years has the company been in the business? How many events
have they done? Which venues have they worked at? This can help avoid any
unexpected issues with load in, electrical, rigging, and overall city/venue navigation.
AV Equipment Rentals in Las Vegas
We take pride in offering the latest and best AV equipment for a corporate event in Las Vegas. Our
services aren't limited to rentals only. From consulting you in the early stages, preparing
renderings, custom content, delivery, set up, and operate – Pure AV is a one stop shop for all
your AV needs.  Our team of experts is present on the day of your corporate event to help you
with any problems that may arise. That is how we achieved an extensive list of clients that
consistently put their faith in us. Lastly, Pure AV provides high-quality audio visual equipment for
corporate events – we look forward to earning your business!