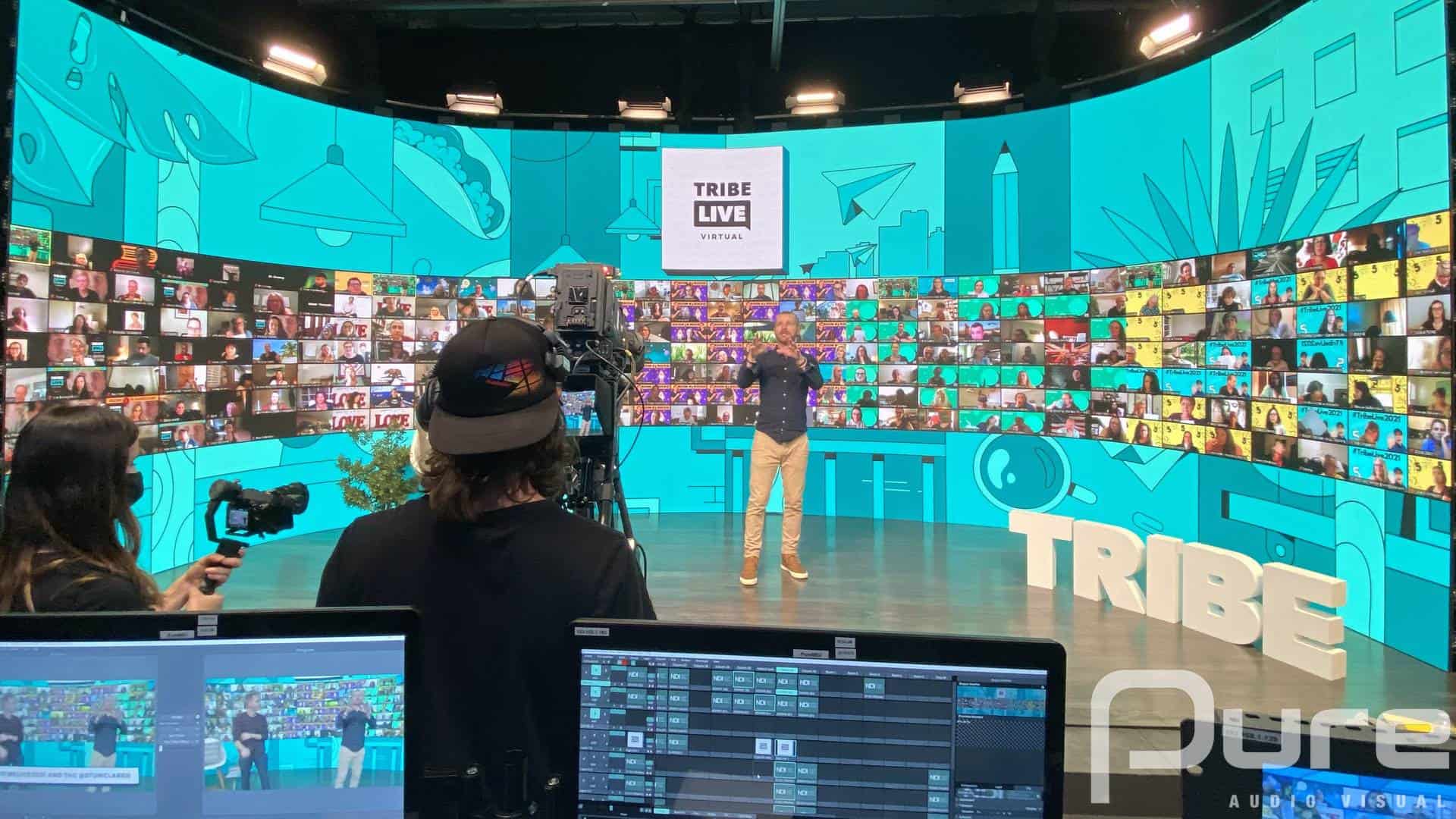 5 Benefits of Adding an LED Video Wall Rental to an Exhibit
Pure AV provides high-quality audio visual equipment for corporate events. For over 10 years we have been a leader in renting, installing, and operating AV Equipment for exhibitors at Trade Shows in Las Vegas. Our most popular product is our LED video wall rental – here's 5 reasons why:
1. GRAB PEOPLE'S ATTENTION
Want to stand out at your next trade show? One of the best ways to grab people's attention is with bright lights and moving content. That's the main reason clients choose video wall over printed graphics. You can adjust the brightness so that even in a bright room such as a convention hall, your booth will pop out. Exhibiting at the back or in the middle of the convention hall? If you hang the sign from the ceiling (rigging) people will be able to spot your company and booth the moment they walk onto the floor! A great way to get "above" your competition!    
2. MORE CONTENT OPTIONS
With our LED video wall, the only limit to what type of content you can show is your creativity. Advertisements, schedules, graphics, logos, information, videos are just some examples of what clients use our video wall for. If you really want to take things to the next level, consider adding touch screens for interactive elements or adding sensors to create gamification.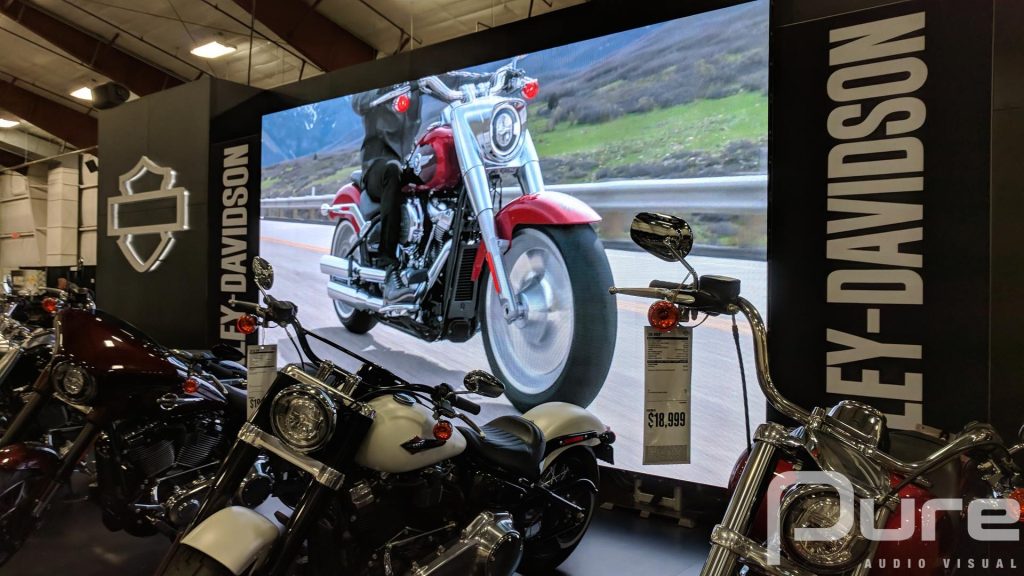 3. PRODUCT DEMONSTRATIONS
Some products are just not possible to demonstrate or even bring inside a convention center. Our LED Video Wall Rental solves that problem with the perfect example visible above. This can obviously have a substantial impact on sales and deal making as buyers may not be interested in a product until they see how it works or an example of it in action.
4. MORE FLEXIBILITY
Speaking of flexibility, our panels are curvable! You can flex them in both directions to create a concave or convex video wall. We can even do full circles – known as an LED Ring. Hanging one of these at a show will get people's attention no matter what side they see it from!
Check out a video of our curvable LED tiles by clicking here.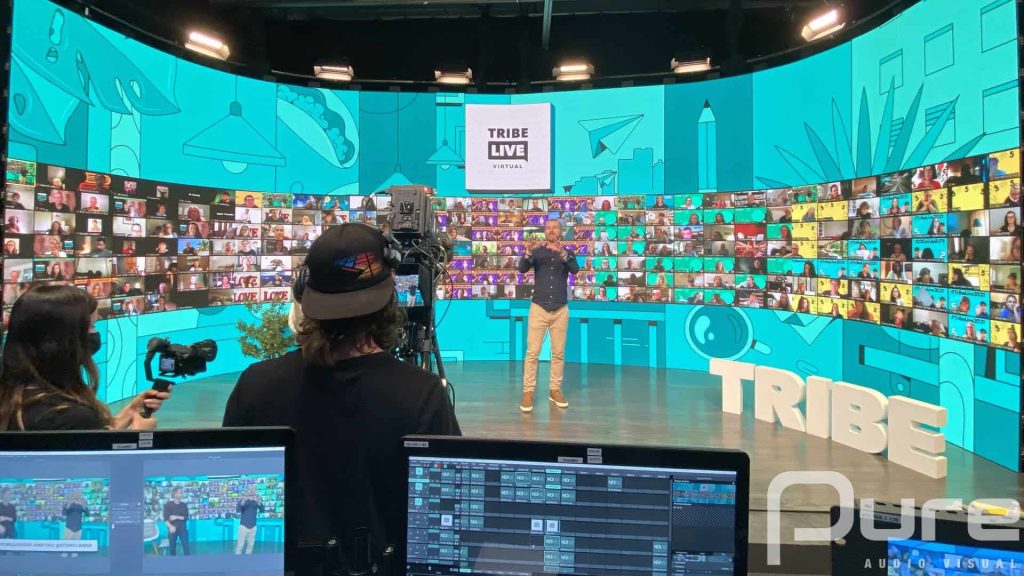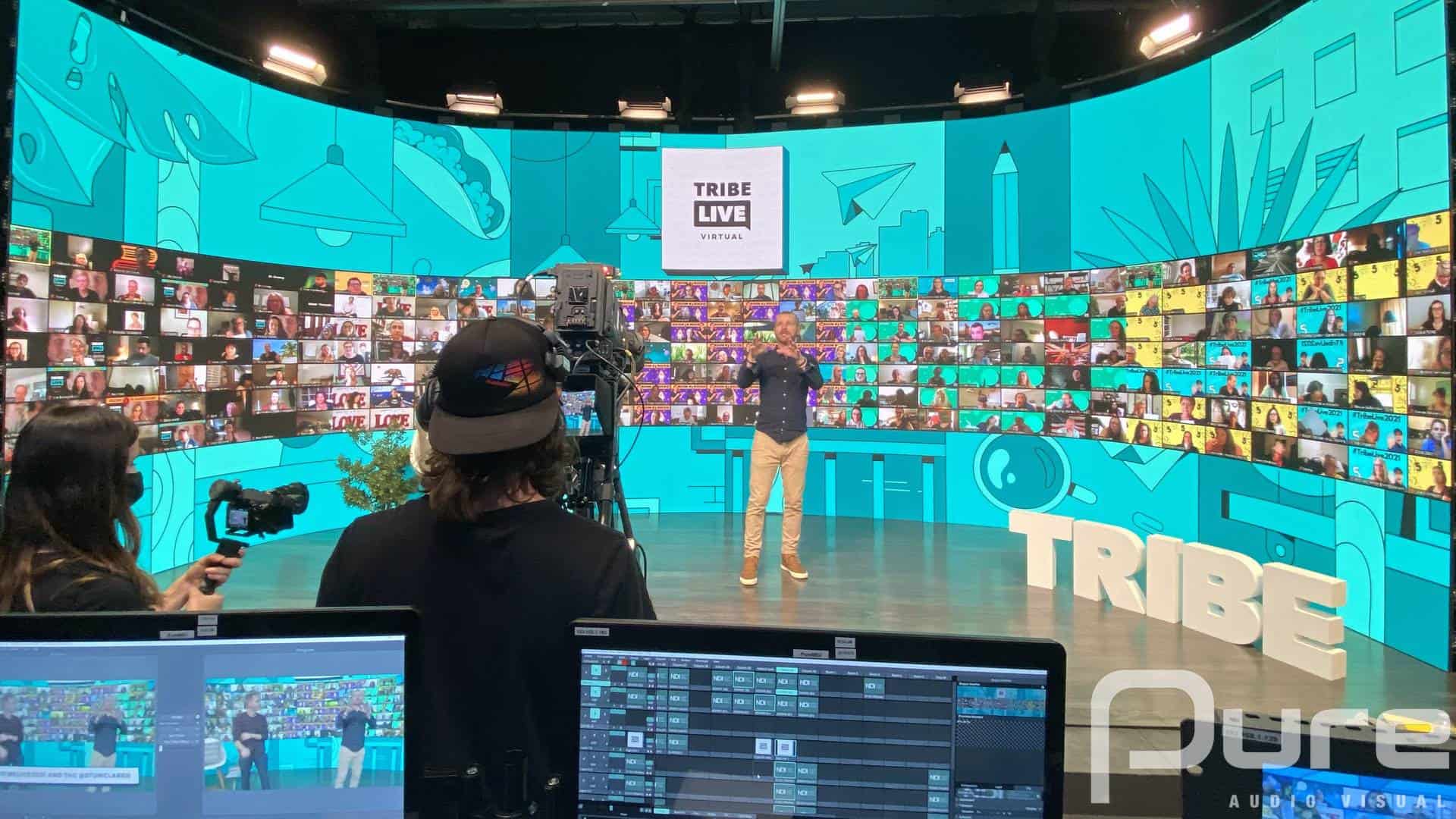 5. CREATE A PRESENTATION AREA
Maximize the utility of your LED screen by incorporating it into an area that you can use for presentations. You can even bring in speakers from anywhere in the world onto the screen or do a live zoom presentation from your booth! We also carry all audio, video, lighting, and streaming equipment and expertise you need to get this done.
CONTACT PURE AV FOR YOUR LED VIDEO WALL RENTAL IN VEGAS
We take pride in providing the latest trade show AV equipment in Las Vegas. Our team can recommend the best AV Setup no matter what booth size.  We work regularly as an experienced Exhibit AV Provider at Las Vegas Convention Center (LVCC), Mandalay Bay, Venetian Expo, World Market Center, and almost every hotel. 
Get in touch with our sales staff by emailing [email protected]  or calling 1-800-929-7089.
If you want to learn more Pure AV socials are your best source for past projects and gear rental options – Facebook, Instagram, LinkedIn and YouTube.